FREQUENTLY ASKED QUESTIONS
Do you ship internationally?

Yes, we ship worldwide with Deutsche Post Warensendung / DHL.

Tracking will be provided.
How long will it take?

We produce every item in Germany, Berlin. Please allow us 2-5 business days to make and dispatch your item after you placed your order.

Shipping to Germany: 2-4 days

European Union: 3-7 days

Rest of Europe: 1-2 weeks

North America: 2-5 weeks

Australia / Oceania: 3-5 weeks

Rest of the world: 1-2 months
How can I track my order?

Tracking information will be sent to you via email once your order is being processed. If you did not receive tracking please contact us.
Can I exchange my item? I ordered the wrong colour or size.

We are happy to exchange your item without causing any extra cost for you.

Contact us first via email and describe the problem and how we can solve it.

Once everything is clear and we have no further questions, we will send you a return label and your fresh item.
How do I return an item?

You would like to return your item and receive a full refund? Just send it to:

LIESA MARIA LETTAU

KARL-MARX-STRASSE 218

12055 BERLIN

- GERMANY -

We will refund you by the end of the current month.
Can I get a refund for custom made items?

Depending on the type of customization, there is an option to return the item and get a refund of the items retail price.

Any additional costs will not be refunded.
How do I choose my size?

Please follow our size chart to find your fit.

Please drop us a note if you are in between sizes or your measurements do not match the target height in the chart.

CLOTHING SIZE:

XS: <1.66m, chest <80cm, waist <60cm, hips <86cm
S: 1.56 - 1.67m, chest 80-84cm, waist 58-66cm, hips 88-94cm
M: 1.68 - 1.78m, chest 85- 92cm, waist 67-74cm, hips 95-102cm
L: 1.79-1.82m, chest 93-100cm, waist 75-84cm, hips 103-110cm
XL:> 1.68m, chest 101-108cm, waist 85-92cm, hips 111 -118cm

UK & USA

XS: <5.4ft, chest <31", waist <24", hips <34"
S: 5.1 – 5.4ft, chest 31-33", waist 23-26", hips 34-37"
M: 5.4 – 5.8ft, chest 33-36", waist 26-29", hips 37-40"
L: 5.8 – 6.0ft, chest 36-39", waist 29-33", hips 40-43"
XL: >5.5ft, chest 39-42", waist 33-36", hips 43-46"
Which fabrics are available and how do I choose them?

Our fabrics are limited and therefore ever changing. You can choose from 20 fabrics that are currently in stock. Find them in each listing or below this post.

MATERIAL:

#1-5 92% Polyester, 8% Elastan
#6-10 92% Polyester, 8% Spandex
#11-13 92% Polyester, 8% Elastan
#14-15 95% Cotton, 5% Elastan
#15-20 90% Nylon, 10% Spandex
EVERY NOW AND THEN WE CHANGE THE SELECTION OF AVAILABLE FABRICS, DEPENDING ON OUR STOCK.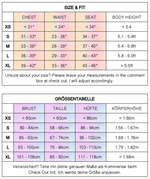 find your perfect fit
Please drop us a note if you are in between sizes or your measurements do not match the target height in the chart.